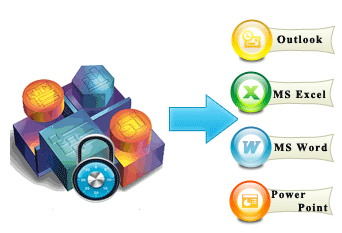 VBA Project Password Remover
What Is The Solution Locked VBA Project
VBA Project source code becomes unusable
It enables you to recover multilingual VBA project passwords
It enables you to recover VBA project password of any length
It enables you to copy changed password to clipboard or file
Unlock VBA Project Password For Obtaining Source Code Conveniently
Why you want to unlock VBA project password? The need to unlock VBA project password occurs either when you have lost VBA password or when you have forgotten VBA Project password Remover. These two are the most occurring and tough situations in from of users which prevents your access to VBA projects on MS® Office application
The only way via which you can free unlock VBA project password is usage of VBA Password Remover software. This external solution viably produces range of effective features so that you can easily remove VBA Project password restrictions. The unusual features in the tool are applicable for raw computer users and very skilled users at the same time.
Unlock VBA Project Password in simplest possible steps:
By following very simple steps, it is possible to unlock VBA Project password at the rapid rate. The brief steps allow you remove VBA passwords from all MS® Office suite applications. You need to go through given below step-by-step process for your guidance:
Start MS Visual Basic Editor >> Tools >> Protection Tab >> Select Check Box to Lock Project for viewing >> Type password >> Save and close project
Following these simple steps, you would be able to recover VBA project password immediately and can access data quite comfortably with the help of VBA Project Password Recovery
No harm in verifying tool via FREE Demo:
Purchasing this excellent VBA Password Remover software is not obligatory but we wish if you try it once before casting an opinion. Therefore, we have a free trial version to make you acquainted with the product and its features. This utility supports both 32-bit and 64-bit versions of MS Outlook. All features are incorporated in this evaluation version; just use it to get to know the product closely.
There are no obligations in trying visual basic application Password Remover software free of cost and see all the features and working steps of the tool. This is the way to experience software capabilities. Observe all the required info from demo, get acquainted with this application and after invest in full version.
Buy Tool In pocket-Friendly Price:
Software unlock VBA project password and replace with the latest one provided by tool if you make shopping in full version of visual basic application Password Remover. Contact our support team for any help!
Screenshots to Remove VBA Password from Protected Files